Our Services
Dental Implants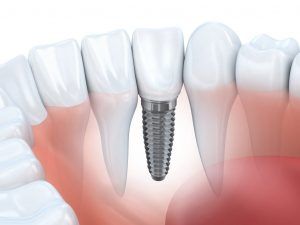 DENTAL IMPLANTS
Dental implants have become the preferred standard of care when replacing missing, damaged, or deformed teeth. Right Family Dental is a top choice for dental implants. We utilize the latest in guided implant technology by using a Cone Beam CT scanner. Implants are titanium posts that screw into your jawbone to replace the root of your missing tooth. Implants can be used in the following ways:
Replacement of one or more missing teeth
Support of a bridge to replace multiple teeth
Support of a removable full or partial denture
BENEFITS OF DENTAL IMPLANTS
Implants vs bridges You always have options for different kinds of treatment. We will, of course, present you with the most ideal option, but we will do our best to find other more economical ways to help you achieve your goals. Here is how dental implants compare with dental bridges: Bridges
A bridge is difficult to keep clean
A bridge requires aggressive tooth reduction of healthy teeth that are supporting the bridge
An implant saves the adjacent teeth
Dental Implants
Implants preserve the bone level
Implants allow you to floss and clean the area just like a natural tooth
Implants have a success rate of 98%italic text
Meet the Doctors
Make An Appointment
Frequently Asked Questions
Why visit the dentist?
The general medical consensus affirms that the average patient should see the dentist roughly once every six months. Unfortunately, many people do not take this seriously because they do not understand the importance of dental checkups. Here are a few reasons why visiting the dentist is important.
Defends against tooth decay
Lowers your risk of chronic bad breath.
Protects against gum disease, (known professionally as Periodontal Disease.)
Lowers your risk of tooth and bone loss
Eliminate the stains that develop inevitably due to food, drinks, and tobacco
Strengthens your teeth, which can improve the quality of your life for years to come.
Helps you look and feel your best, knowing that you have a healthier and more attractive smile!
How do I schedule my next checkup?
Simply click the book an appointment button on your screen to schedule an appointment at your convenience! Our front desk staff will be happy to hear from you. Please let us know if you are a new patient and we will work with you to make sure that your first appointment goes smoothly and comfortably!