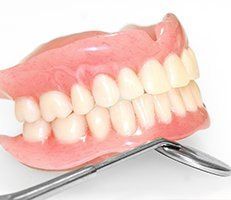 Dentures
Dentures are false teeth that can be worn to replace the you have lost. Complete dentures would be considered a full set and would cover your entire upper or lower jaw while partial dentures are made to replace one or several missing teeth.
Complete Dentures
If you've lost all of your natural teeth, either from tooth decay, injury or periodontal disease, complete dentures can replace those missing teeth, and restore your smile as well. Without your natural teeth your facial muscles can start to sag, possibly making you appear older than you are. Full dentures can provide the necessary support to your facial muscles to prevent that. You'll also be able to eat and speak again, something that many people take for granted. Conventional full dentures are made and placed in your mouth after the remaining teeth are removed and the gum tissue has healed, which can take up to several months. An immediate complete denture is inserted as soon as the remaining teeth are removed. We'll take measurements and makes models of your jaw during a preliminary visit. With immediate dentures, you don't have to be without teeth during the healing period.
Partial Dentures
Metal based
For individuals who are only missing some teeth, partial dentures will likely be the best option. Partial dentures are designed to work in conjunction with your existing teeth, restoring your ability to chew and talk normally, and helping to eliminate the discomfort of missing teeth.
Valplast
Valplast partial denture is the option when the teeth that are miising are in the esthetic zone. No metal hooks present.
Meet the Doctors
Make An Appointment
Frequently Asked Questions
Why visit the dentist?
The general medical consensus affirms that the average patient should see the dentist roughly once every six months. Unfortunately, many people do not take this seriously because they do not understand the importance of dental checkups. Here are a few reasons why visiting the dentist is important.
Defends against tooth decay
Lowers your risk of chronic bad breath.
Protects against gum disease, (known professionally as Periodontal Disease.)
Lowers your risk of tooth and bone loss
Eliminate the stains that develop inevitably due to food, drinks, and tobacco
Strengthens your teeth, which can improve the quality of your life for years to come.
Helps you look and feel your best, knowing that you have a healthier and more attractive smile!
How do I schedule my next checkup?
Simply click the book an appointment button on your screen to schedule an appointment at your convenience! Our front desk staff will be happy to hear from you. Please let us know if you are a new patient and we will work with you to make sure that your first appointment goes smoothly and comfortably!