Our Services
Preventative Dentistry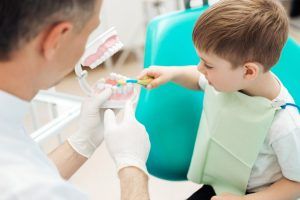 Preventive Dentistry
At Right Family Dental, we offer comprehensive general dentistry services to keep your smile healthy, confident and bright. Our doctors emphasize the power of preventive care and effective oral hygiene habits to protect your smile for life. We recommend a checkup every six months to stay ahead of any potential problems. During your regular cleaning appointment, our team will thoroughly assess your teeth and gums for any signs of gum disease, oral cancer or tooth decay. If we see anything concerning, we will fully inform you and listen to all of your thoughts about treatment options.
Professional Teeth Cleaning
Dental prophylaxis is a professional teeth cleaning procedure that thoroughly cleans the teeth. It is an important preventive measure to help stop the progression of gingivitis and gum disease. We recommend our patients receive this type of procedure twice a year.
Fluoride Application
Our doctors recommend applying fluoride varnish at your regular dental checkups to help remineralize weak areas of tooth enamel, keeping them more resilient against bacteria.
Oral Cancer Screening
Tobacco users aren't the only ones who should be concerned about oral cancer. Oral cancer is on the rise. That's why at Right Family Dental, we provide oral cancer screenings as part of your regular-checkup to all of our patients over the age of 18.
Digital X-Rays
Our practice uses digital x-rays to produce enhanced computer images of our patient's teeth, gums, and other oral structures and conditions. Digital x-rays are the key to early detection and effective treatment of dental problems and expose patients to less radiation than traditional film x-rays.
Intraoral Camera
X-rays can be an excellent way to help diagnose oral health problems, but an intraoral camera takes it a step further. At Right Family Dental, we use our intraoral camera to examine areas of our patient's mouths that x-rays can't show.
Sealants
Dental sealant is a thin, plastic coating painted on the chewing surfaces of teeth -- usually the back teeth (the premolars and molars) -- to prevent tooth decay.
Meet the Doctors
Make An Appointment
Frequently Asked Questions
Why visit the dentist?
The general medical consensus affirms that the average patient should see the dentist roughly once every six months. Unfortunately, many people do not take this seriously because they do not understand the importance of dental checkups. Here are a few reasons why visiting the dentist is important.
Defends against tooth decay
Lowers your risk of chronic bad breath.
Protects against gum disease, (known professionally as Periodontal Disease.)
Lowers your risk of tooth and bone loss
Eliminate the stains that develop inevitably due to food, drinks, and tobacco
Strengthens your teeth, which can improve the quality of your life for years to come.
Helps you look and feel your best, knowing that you have a healthier and more attractive smile!
How do I schedule my next checkup?
Simply click the book an appointment button on your screen to schedule an appointment at your convenience! Our front desk staff will be happy to hear from you. Please let us know if you are a new patient and we will work with you to make sure that your first appointment goes smoothly and comfortably!