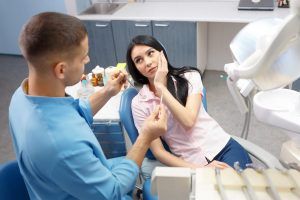 ROOT CANAL
Root Canal Procedure treats infected nerves of the tooth. There is nothing better then your original tooth. Root Canal is a procedure to save your teeth.. There are different reasons why one needs a Root Canal. The following are some of the reasons:
Trauma due to constant striking of a tooth.
Physical irritation cause by a decay that touches the nerve. Normally, a tooth that has a very large filling can be a candidate for Root Canal, especially when the cavity is very close to the nerve.
Severe gum disease.
After our doctors determine the need for Root Canal, we will schedule you an appointment for the procedure. Often, Root canal procedure is done in one visit. However, if the tooth is infected you might need to take the course of antibiotics before the completions of the procedure.
After Root Canal, a tooth is considered dead. There should be no more blood supplying the roots of that tooth. Therefore, it is more brittle than a vital one. It is susceptible to a fracture without a build-up or a crown on it. Therefore, it is encouraged to get a build-up and a crown as soon as possible to preserve the tooth for a longer period of time.
Since a tooth after root canal is dead, the tooth may become discolored over time. However with a crown covering the real tooth, this may be hidden.
Meet the Doctors
Make An Appointment
Frequently Asked Questions
Why visit the dentist?
The general medical consensus affirms that the average patient should see the dentist roughly once every six months. Unfortunately, many people do not take this seriously because they do not understand the importance of dental checkups. Here are a few reasons why visiting the dentist is important.
Defends against tooth decay
Lowers your risk of chronic bad breath.
Protects against gum disease, (known professionally as Periodontal Disease.)
Lowers your risk of tooth and bone loss
Eliminate the stains that develop inevitably due to food, drinks, and tobacco
Strengthens your teeth, which can improve the quality of your life for years to come.
Helps you look and feel your best, knowing that you have a healthier and more attractive smile!
How do I schedule my next checkup?
Simply click the book an appointment button on your screen to schedule an appointment at your convenience! Our front desk staff will be happy to hear from you. Please let us know if you are a new patient and we will work with you to make sure that your first appointment goes smoothly and comfortably!