Our Services
Cosmetic Dentistry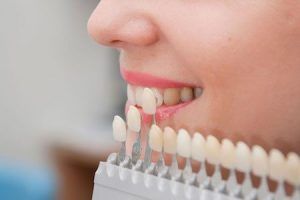 Cosmetic Dentistry
Having a beautiful smile is important no matter who you are. Thanks to cosmetic dentistry procedures performed by our skilled doctors, it's never too late to finally achieve the confidence of having beautiful teeth. At Right Family Dental, we offer comprehensive cosmetic solutions to help you mask the appearance of dark, discolored, or irregularly shaped teeth.
Teeth Whitening
We offer both custom take-home trays for convenient at home whitening, as well as professional in office whitening ZOOM.
Porcelain Dental Veneers
Porcelain dental veneers can offer the most dramatic smile transformation possible, as they cover the front of your teeth completely, providing a perfectly white and uniform appearance and hiding all irregularities.
Dental Bonding
Tooth colored materials (white fillings) can be used to cover minor discrepancies such as chips or gaps in your teeth. In many cases, numbing or adjusting the tooth isn't even necessary.
Dental Onlays/Inlays
Inlays and onlays can be used to fix broken, decayed or chipped teeth or to fix a lost or damaged filling. At Right Family Dental we do porcelain inlays and onlays to preserve more of the natural tooth than other dental options.
Meet the Doctors
Make An Appointment
Frequently Asked Questions
Why visit the dentist?
The general medical consensus affirms that the average patient should see the dentist roughly once every six months. Unfortunately, many people do not take this seriously because they do not understand the importance of dental checkups. Here are a few reasons why visiting the dentist is important.
Defends against tooth decay
Lowers your risk of chronic bad breath.
Protects against gum disease, (known professionally as Periodontal Disease.)
Lowers your risk of tooth and bone loss
Eliminate the stains that develop inevitably due to food, drinks, and tobacco
Strengthens your teeth, which can improve the quality of your life for years to come.
Helps you look and feel your best, knowing that you have a healthier and more attractive smile!
How do I schedule my next checkup?
Simply click the book an appointment button on your screen to schedule an appointment at your convenience! Our front desk staff will be happy to hear from you. Please let us know if you are a new patient and we will work with you to make sure that your first appointment goes smoothly and comfortably!