Our Services
Emergency Dentistry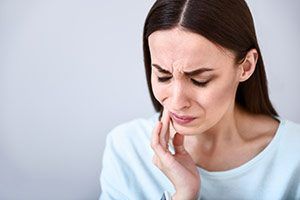 Dental Emergencies
At Right Family Dental, we specialize in providing the best solutions to our patients and can often provide you with same-day or next-day emergency dentist appointment times to help you manage pain.
Tooth Pain
Tooth pain can be excruciating and can interfere with every other aspect of your life. Sleeping, working, or concentrating on everyday tasks can seem to be impossible when dental problems are causing constant pain. Are you experiencing tooth pain? Does it hurt to chew or when air touches your tooth? The first step to take if you are suffering with persistent toothache is to call Right Family Dental to schedule an exam. During your appointment, our dental team will likely x-ray your tooth to help determine if a cavity, crack, abscess or other problem is causing your pain before discussing treatment options with you.
Knocked Out Tooth
A knocked out tooth is a common dental problem. At Right Family Dental, we make sure to immediately take care of our patients who are experiencing this painful dental emergency.
Broken Tooth
Teeth can be incredibly strong, but they can still chip, break or crack (fracture). In case of the dental emergency like that seek an immediate appointment at Right Family Dental. The issue must be addressed promptly to prevent further damage or infection that could result in tooth loss.
Broken Dental Filling
As advanced as modern dentistry is, broken fillings can still happen. The most important thing to remember is not to delay seeing a dentist to get treatment for a broken filling. Many teeth can start out with a small break and would only need a filling, but the longer treatment is delayed, the bigger the problem becomes.
Dental Abscess
A tooth abscess usually occurs as a result of an untreated dental cavity, an injury or prior dental work. See your dentist promptly if you have any signs or symptoms of a tooth abscess. If you have a fever and swelling in your face you need to see a dentist immediately. Dental abscess can cause trouble breathing or swallowing. These symptoms may indicate that the infection has spread deeper into your jaw and surrounding tissue or even to other areas of your body.
Meet the Doctors
Make An Appointment
Frequently Asked Questions
Why visit the dentist?
The general medical consensus affirms that the average patient should see the dentist roughly once every six months. Unfortunately, many people do not take this seriously because they do not understand the importance of dental checkups. Here are a few reasons why visiting the dentist is important.
Defends against tooth decay
Lowers your risk of chronic bad breath.
Protects against gum disease, (known professionally as Periodontal Disease.)
Lowers your risk of tooth and bone loss
Eliminate the stains that develop inevitably due to food, drinks, and tobacco
Strengthens your teeth, which can improve the quality of your life for years to come.
Helps you look and feel your best, knowing that you have a healthier and more attractive smile!
How do I schedule my next checkup?
Simply click the book an appointment button on your screen to schedule an appointment at your convenience! Our front desk staff will be happy to hear from you. Please let us know if you are a new patient and we will work with you to make sure that your first appointment goes smoothly and comfortably!