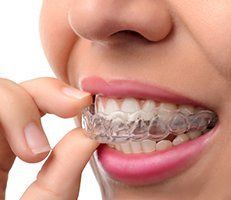 Orthodontics
Do you want a straighter smile, but don't want to spend years in braces? With average treatment time for conventional braces taking up to 3 years, you may we can offer you a quicker and more cost effective way to improve your smile. Come and See our doctors for Free Orthodontic Consultation.
FASTBRACES®
It's never too late for a beautiful smile. FASTBRACES® is an efficient and affordable orthodontic treatment that can help you quickly reap the benefits of properly aligned teeth. Straightening your smile offers numerous benefits, including:
Straighter teeth are easier to clean and less prone to cavities and tooth loss
Enjoying the renewed confidence a beautiful smile can bring
FASTBRACES® is a quick treatment orthodontic system that uses triangular brackets and a single wire to move your teeth more gently and efficiently than conventional braces. In most cases, no extraction is required.
Invisalign®
Invisalign a orthodontic system that uses clear removable aligners to straighten the teeth. The treatment with Invisalign is consists of series of aligners that are changed weekly. Patients using Invialign must be compliant in wearing them, often 22 hours a day. Patient in our practice achieve excellent results with Invislaing
Meet the Doctors
Make An Appointment
Frequently Asked Questions
Why visit the dentist?
The general medical consensus affirms that the average patient should see the dentist roughly once every six months. Unfortunately, many people do not take this seriously because they do not understand the importance of dental checkups. Here are a few reasons why visiting the dentist is important.
Defends against tooth decay
Lowers your risk of chronic bad breath.
Protects against gum disease, (known professionally as Periodontal Disease.)
Lowers your risk of tooth and bone loss
Eliminate the stains that develop inevitably due to food, drinks, and tobacco
Strengthens your teeth, which can improve the quality of your life for years to come.
Helps you look and feel your best, knowing that you have a healthier and more attractive smile!
How do I schedule my next checkup?
Simply click the book an appointment button on your screen to schedule an appointment at your convenience! Our front desk staff will be happy to hear from you. Please let us know if you are a new patient and we will work with you to make sure that your first appointment goes smoothly and comfortably!